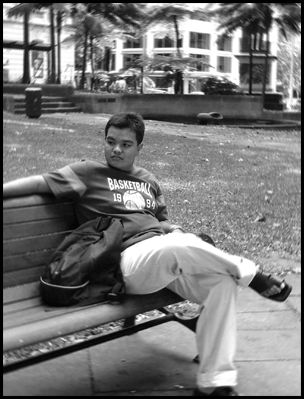 This is a Blog by yit4s is a blog by me (duh!). My name is Zulhelmi aka yit4s. I've been using this name on the Net since 2001 while I'm in Standard Four. I spend at least 3/4 of this year on the Net especially in blogging. Honestly, I suck at introduction so I apologise in advance for any 'inconvenient'. My current issue is the PMR exam, coming up in October.

Me as in Real ME!
As I mentioned above, my name is Zulhelmi and currently studying as a Form Three student at Sultan Abdul Hamid College, in the heart of Alor Star, Kedah. Where is Kedah? Located in the north part of Peninsula Malaysia. Alor Star is the capital of Kedah. I've been raise and living in Alor Star since the last 15 years, whice mean I'm 15 this year. Yay, license next year!

The Net is where I Live
First time on the Net is when I was 7. I used the computer the first time by playing Pac-Man when I was 3 or 5, just around that age, very young. I have a huge interest in technology and computer , although I'm not that good at it. I don't have any techno-ish stuff like iPod or even a mobile phone! Just this old laptop, which is Acer TravelMate 4000 series, 4002WLCi to be more specific. My first e-mail is what I'm currently use.

Live to Eat
I love mostly my grandma's cookings and my mom's. Other stuff like spaghetti, pizza, and usual stuff like people would love. I recently discovered that Sushi is like THE BOMB! I love sushi. My grandma cooks the best Nasi Lemak in town with squid sambal (sambal sotong) [strange name in English].

Malls are my (second) Home
I just love to shop. I don't have alot of money but I bought clothes more than an average 15-year-old student. I like all types of shopping, including window-shopping, waste-of-money-shopping etc.

New Blog, New...
...topics, issues, events and dilemmas in my life. Technically, I've been blogging about a year (March 2005 to March 2006). My last blog concentrated mostly on general topics/interests like computer, music, technology etc. This is a Blog (TIAB) offers more than general topics. It concentrates more on me, like what do I do, eat, wear etc. There will also some issues that will lead to dilemmas and confuses. Blog is where I want to express my feelings on current/general issue. But I have to be careful. One big mistake could lead to a huge controvesy.

View my Blogger and Technorati profiles. Add me on Friendster and MySpace. Don't forget to vote my blog at World Top Blogs and Malaysia TopBlogs.

I hope you would enjoy me as much as I enjoy myself.