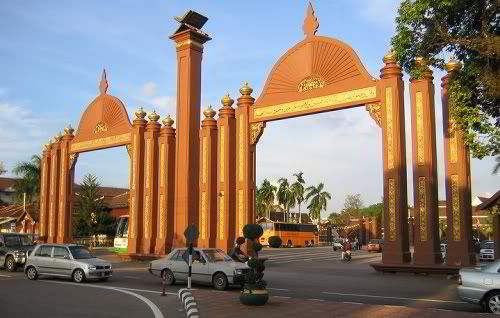 Going to MRSM PC means my first time going to East Coast. Not just go, but stay and live in Kelantan, at the heart of Kota Bharu. I really want to be hone Kota Bharu, The Islamic City is also the capital of Kelantan which most people [including me of course] consider as one of the rural states in Malaysia. My experience entering Kelantan was like "Tuak?! WTF?!" They sell tuaks by the road side :P

I think most Malaysians would agree and they knew that tuak is a type of drink that will make you drunk aka alcoholic (I'm not sure it contains alcohol or not). I was like Kelantan is an Islamic state so tuaks SHOULDN'T be sold by the road side. To make the story short, tuak is actually nira nipah, also a type of drink that most Malaysians knew, but not an alcoholic drink :D

Other thing about Kota Bharu that fascinates me is Jawi script. IT'S EVERYWHERE! My reaction was "This is so cool, I'm in a totally different world!" The biggest I saw was on billboards, Digi billboard especially. Digi's billboard commercial billboard would be the biggest. It has the word 'Luas', 'Wide' in English, written in Jawi script. It is very different yet very interesting.

A lot of tourists are seen around in the city of KB. They probably have a good Tourism Action Board. Museums, major landmarks, restaurants etc are everywhere to serve the tourists which is a very good thing. KB Mall, probably the biggest mall in KB is... VERY COOL! They sell everything, from clothes to electronics. I would love to go shopping at their Men's Department, it's full of brands and choices. I honestly think that first-timers would be very surprise with KB Mall.

That's all so far. There are certain things that I don't fancy much about Kota Bharu and Kelantan, but I think I like it here already.