After going through a very long and tired week, school is finally off for the next 16 days. I'm very glad. We played alot during this week.

For those who don't know, Kedah is the host for the 11th Malaysian Games or SUKMA. It started yesterday, Wednesday. So far, Kedah is on the 5th place in the medal tally with six golds , a silver and three bronzes. Penang is on the 1st place. Information on events, schedules and medal tally are available on this website.

Alor Star is pretty busy and full of lights and sounds at night. They put alot of SUKMA banners around the city. My school is also one of the venues, rugby is the game for my school. The school janitors started to mown and water the field since few months ago. It looks beautiful though. I just can't fucking stand with traffic around the city, lots of cars and no parking at all.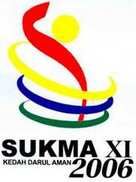 Anyway, go Kedah!