Microsft just launched the Beta version of Windows Media Player 11. Download from here. This version is actually part of the new Windows Vista, that will ship by the end of this year, I think. WMP 11 is currently available for XP, and ME and below users probably can say goodbye :P Microsoft also said that they are no longer support Windows ME and 98.

The interface of WMP 11 is very pretty and clean. I really like the intergration of URGE by MTV. It is an online music store by MTV *coughs*iTunes*coughs*, exclusively for WMP. The Info Center View uses URGE as source of information, shows more information too. At first, I was very confused with the way it works, totally different from the last version. I had to re-manage my library, since I've been using iTunes. Overall, iTunes sound so much better, although WMP get the credit for design. Here's the screenshot of Windows Media Player 11 BETA: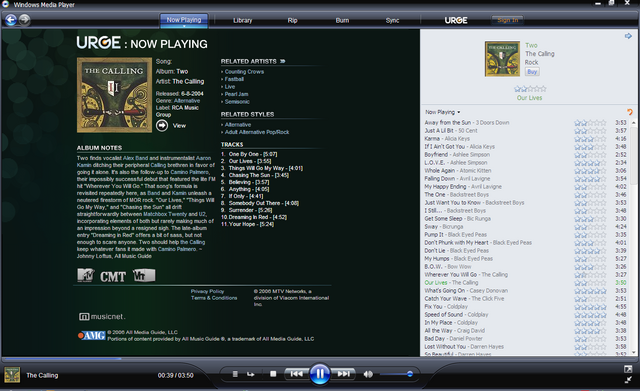 As you can see, I'm listening to Our Lives by The Calling :D I like The Calling.